The Minions you know of are those yellow characters from the Minions movie! These awesome little guys and gals are now on Minecraft PE! You can even tame them, have them fight in combat, or send them on missions! LOL!
This is an awesome new add-on for Minecraft: PE that will allow your character to single handedly use an amazing new look for your vanilla Minecraft game. Imagine seeing everything in purple, or maybe the whole world look like Bikini Bottom from Spongebob Squarepants. This add on is for
To get this add-on, be sure to be using the latest version of Minecraft: Pocket Edition, which is version 0.16. To get this update, simply visit the App Store or the Google Play Store and you will be able to update it. Ask a parent for help!
Creator: Gona —
To find a Minion, you will need to visit the Nether, as their body replaces the Zombie Pigman. So if you are in the nether you will literally be surrounded by them. You can also spawn one in by starting the world in Creative Mode. Then you will be able to find your inventory and lookout for the Zombie Pigman egg!
To successfully tame a minion, you will first need to find a taller one. Feed it some bananas (used to be known as carrots) until the Minion likes you! The tame chances are around 33%. If you find a baby
iOS / Android: Hold your press on the minion with a banana (carrot) and press Tame
Windows 10: All you need to do is right-click on a minion with a banana (carrot)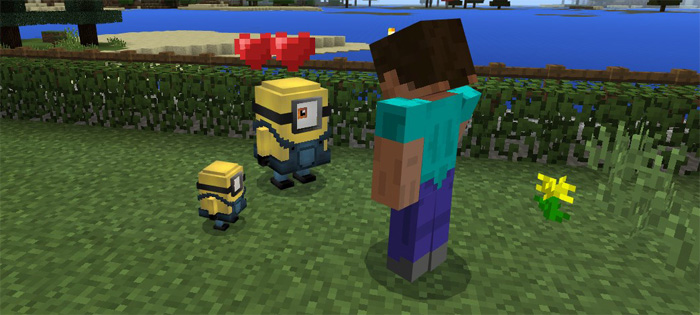 If a minion is tamed by you, you are then it's master. You can then decide to command it to sit/stand (similar to a wolf) or even tie it to a fence post if you get tired of it.

Mission Mode
The coolest mode ever. Send your minion to do jobs for you!
Sword = Hunt animals
Axe = Chop down trees
Pickaxe = Mine
Hoe = Harvest
Shovel = Dig
Fishing rod = Fishing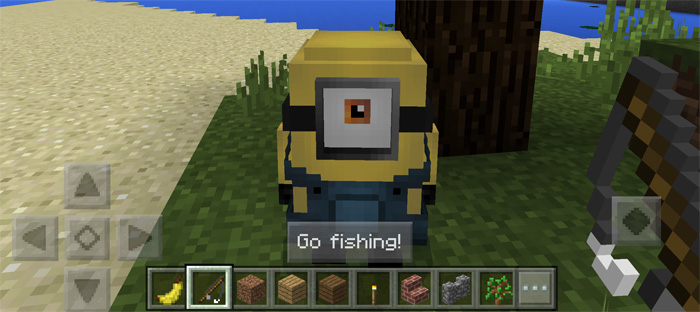 It will take anywhere between 1 – 5 minutes for a minion to return to you after it has been given a task. You can then press on the button to retrieve the items which it collected. In this case, I had asked it go fishing, so it dropped some fish.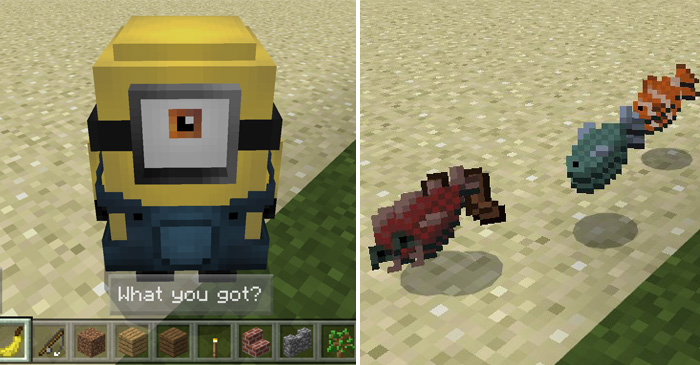 Fighting
Minions are no cowards. If you get attacked by a mob your tamed minion will be quick to help you. And it will also attack anything which you attack.

Other
The crops textures for carrots have been replaced by banana crops.
General Information
Immune to fire
Replaces zombie pigmen
Spawns in the Nether
Wild

Babies

Friendly
Can't breed
Health: 5 hearts
Feed it bananas (carrots) to accelerate growing

Adults

Neutral
Breedable
Health: 10 hearts
Attack damage: 5
Feed it bananas (carrots) to tame it (tame chance: 33%)

Tamed

Health: 15 hearts
Attack damage: 6
Protects its master
Leashable
Give it any of the following tools to give it orders. Returns after 1 min and you can retrieve the items it got

Sword = kill animals
Axe = chop down trees
Pickaxe = mine
Hoe = harvest
Shovel = dig
Fishing rod = fishing
Installation:
Activate the packs in-game by opening them after download. Then "Open with Minecraft: Pocket Edition" will install the packs into the game.
Once you are ready to get the add-on, all you need to do is visit this page from your iPhone, iPad, or other phone or tablet that you have Minecraft: Pocket Edition on.